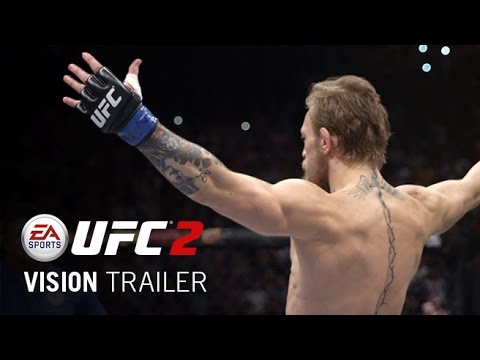 EA Sports UFC 2 Vision Trailer
UFC 2 innovates with stunning character likeness and animation, adds an all new Knockout Physics System and authentic gameplay features, and invites all fighters to step back into the Octagon to experience the thrill of finishing the fight. From the walkout to the knockout, EA SPORTS UFC 2 delivers a deep, authentic, and exciting experience.
There are four key gameplay elements coming to EA SPORTS UFC 2, all designed to make "Finishing the Fight" feel more rewarding than ever!  These are:  a Knockout Physics System, Next-Level Submissions, Dynamic Grappling, and Ultimate Defense.
Knockout Physics System:  With the new physics-driven hit reaction system, every knockout will feel different from the last. Fighters will fall in response to their momentum and the blow they receive, making each knockout feel responsive and rewarding.
Next-Level Submissions:  There are a variety of ways to win from chaining your moves, quick transitions, and the ability to do standing submissions, there are more ways to defeat your opponent.
Dynamic Grappling:  EA SPORTS UFC 2 brings the ground game to life with more variety and responsiveness, featuring freedom and control not seen in any previous MMA game.
Ultimate Defense:  EA SPORTS UFC 2 puts more control in how you're able to defend yourself. Greater head movement lets you slip and dodge incoming strikes while our improved blocking and parry system will make your opponent think twice before attempting a strike.
The first UFC game was released last year for Xbox One and PS4, and was followed by a mobile version earlier this year. EA acquired the UFC rights from THQ in 2012, when it announced that it had plans for multiple games based on the MMA company.
Currently the game is slated for 2016.
Check out the video below showing the trailer of the new title.