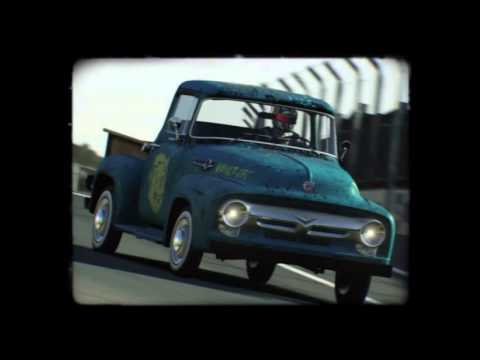 Forza Motorsport 6 Fallout 4 Themed Ford F100
It was announced that players in Forza Motorsport 6 will soon have a glimpse of the apocalypse, thanks to two new Fallout 4-themed cars coming to Forza 6 on Xbox One. Turn 10 Studios and the Bethesda Game Studios, the makers of the upcoming Fallout 4, announced a partnership that will give fans the chance to experience a taste of Fallout 4 in the Xbox One-exclusive racing game.
Forza Motorsport 6 players will receive an exclusive Fallout 4-themed version of the 1956 Ford F100 in the game. With an iconic Vault Boy theme, this Fallout 4 version of the F100 will be sent to Forza 6 players today in celebration of the upcoming Nov. 10 launch of Fallout 4 on Xbox One. Also coming soon, for a limited time, all players of Fallout 4 on Xbox One will receive the super sleek Chryslus Rocket 69 coupe – the future of speed!
"As a fan of Forza Motorsport 6, it is great to see Fallout 4 making an appearance in celebration of the game's launch. We are looking forward to showing the fans the new world of Fallout and the Ford F100 Fallout 4 is now part of that," said Todd Howard, Game Director for Fallout 4 at Bethesda Game Studios.
Check out the video below showing the new vehicle.