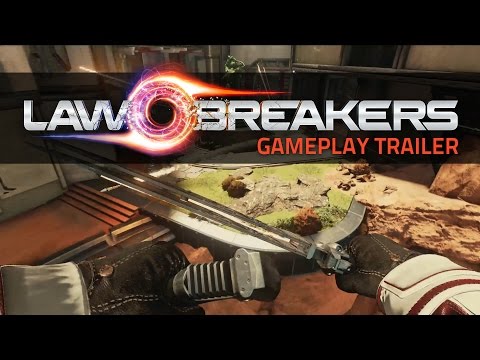 Official LawBreakers Gameplay Reveal Trailer
LawBreakers is a new competitive FPS game, where team-based action can come from any angle, rewarding skill – not streaks.  The game is set in a futuristic world where people have near super-human abilities thanks to low-gravity zones.  LawBreakers is a five-on-five multiplayer PC game where the law squares off against criminals.
The game will have a major focus on characters.  Does that mean you're going to be leveling up your character and giving them stats?  Gangs, guns, and gravity are three main components of the game.  You can see in the video some high flying action.  The gravity component seems quite interesting.  Half of the playable cast will be female.
If you like Gears of War you'll be exited to hear that the lead designer is Cliff Bleszinski.  Currently the game is schedule to be released sometime in 2016 and will be free to play.
Some of the classes in the video are the swift Assassin Kitsune, who can double-jump.  Breacher, a gunner who has the unique ability to shoot behind him. There's Maverick a jetpack-wielding Skirmisher.  Lastly, a Titan named Cronos, who can rocket-jump.
Check out some action below in this class-based multiplayer shooter.