Pokémon turning 20, Nintendo celebrates with New 3DS bundle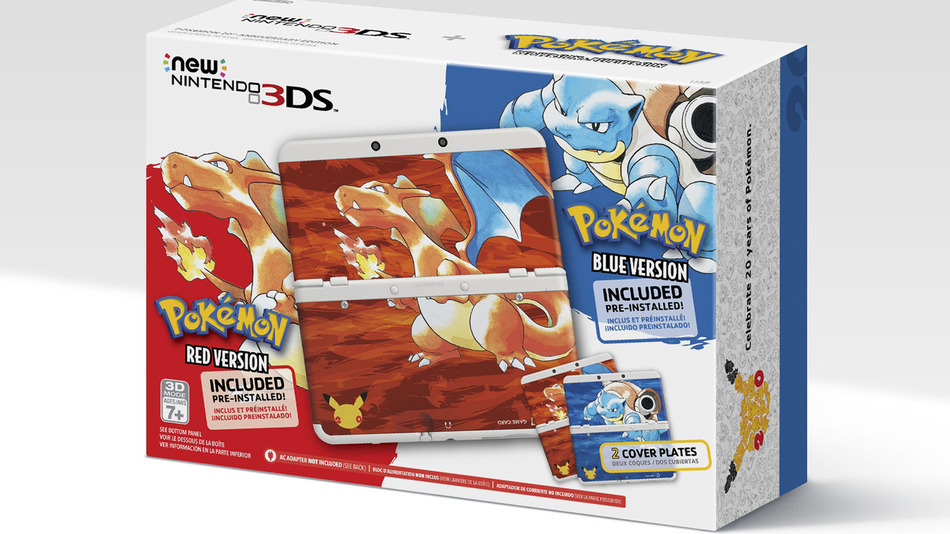 Nintendo is sending you back into Kanto for Pokémon's  20 anniversary with the original 151. Along with releasing Pokémon mulitple color 3DS versions on the Nintendo eShop, a New Pokémon-themed Nintendo 3DS bundle will be coming out Feb. 27, which is now dubbed "Pokémon Day."
The New bundle includes a Nintendo 3DS with two faceplates featuring original box art of Blastoise and Charizard from the original Gameboy games come pre-installed on the Pokémon Red and Blue versions, also included is a code for an Pokémon exclusive 3DS Home menu theme.
If getting to pick between Charmander, Squirtle and Bulbasaur isn't enough, Nintendo has a few more other things planned for the 20th anniversary, including re-releasing popular Pokémon Amiibos Charizard, Greninja, Jigglypuff, and Lucario to re-join Pikachu.
For fans who own  Alpha Sapphire, Omega Ruby, X or Y, you can receive four Legendary Pokémon (Arceus, Darkrai, Genesect, and Mew) during distribution events at participating Gamestops throughout 2016.
If you are a collector of the Pokémon card game don't feel left out. You will have the chance to pick up the Generations expansion, which will include a host of new cards, featuring Pokémon from the original series and Mythical Pokémon starting in February.
Are you going to collect em all?